The sober curious lifestyle is making waves on social media and beyond. With a new segment of consumers opting out of drinking, some think non-alcoholic beverages are here to stay.
In 2022, searches for "fancy non-alcoholic drinks" grew on Pinterest by 220%. Luckily, the market for booze-free beverages is vast, flavorful, and full of delicious options. These thoughtfully designed products have one thing in common, they are here to change the way the world thinks about socializing and winding down.
Whether you enjoy the complexities of a craft cocktail or prefer the convenience of a chilled can, we've got ideas for you.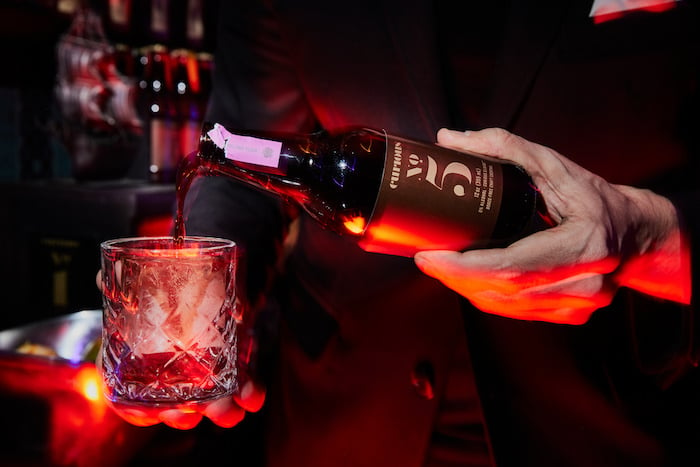 Curious Elixirs
These ready-to-drink and booze-free craft cocktails from Curious Elixirs are infused with adaptogens like rhodiola, ashwagandha, and Shatavari, to help you relax without a hangover. Drinks are inspired by trendy classics like the blood orange spritz or a spicy margarita and come in eight fascinating flavors. The bold flavor profiles have enough of a quench to feel like you could drink these at any bar. Bottles are not sweet or filled with carbonation, making the savory notes stand out. We like them because they are perfectly proportioned to be a grab-and-go for your next night out with friends.
How we'd drink it: Inspired by the Negroni Sbagliato, No. 1 left a lasting impression on us for its earthiness. Pronounced notes of orange are paired with pomegranate and trickles of fennel, to create a combination that fans of vermouth or Sazerac would be thrilled about. Invert the bottle, then pour it into a chilled glass with ice.
Price: $40 USD/4-pack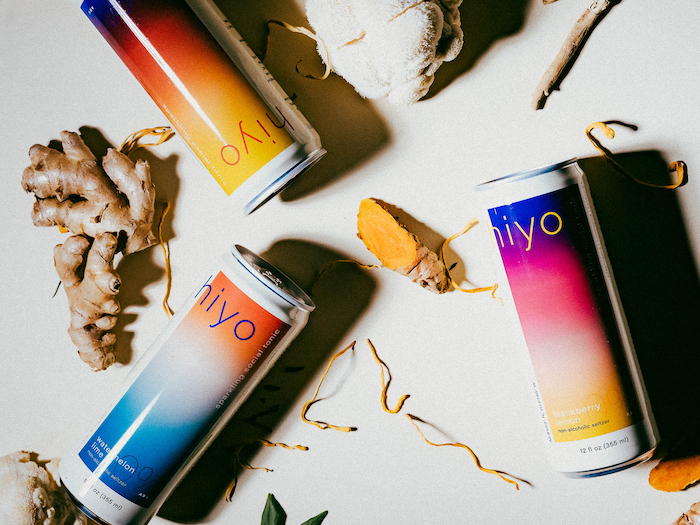 hiyo
Standing for "happy in your own," Hiyo prides itself on helping live a life never wasted. Hiyo's social tonics are infused with adaptogens and nootropics like lion's mane and ashwagandha, leaving you at ease with an energized buzz. Without compromising on taste, hiyo comes in three fruit-forward flavors: Peach Mango, Watermelon Lime, and Blackberry Lemon. At just 30 calories per bottle, the drink is also much lower in calories than your average glass of wine. Cans are sleek and easy to transport, making them the ideal alternative to the spiked seltzer.
How we'd drink it: In the summer, we love sipping on a can of hiyo's Blackberry Lemon. Made with organic blackberry juice, the rich deep-purple drink is the right amount of tangy and tasty on a warm day. Pour it over ice or have it chilled on its own.
Price: $44.99 USD/12 cans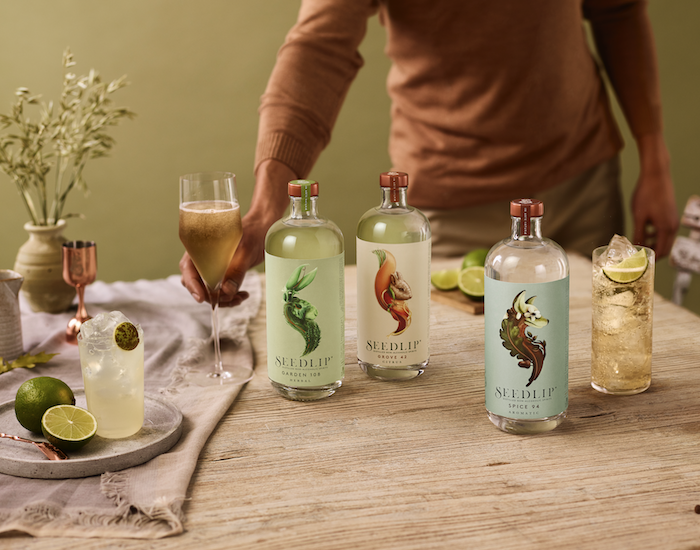 Seedlip
Made from herbal extracts, Seedlip is a non-alcoholic spirit that prides itself on bringing consumers closer to nature. The collection offers three nature-forward flavor profiles made from carefully selected botanicals, such as spearmint, thyme, and cascarilla. Carefully selected herbs, spices, peels, and barks undergo bespoke maceration, copper pot distillation, blending, and filtration to then become blended and bottled in England. Aside from its ornate labels, you'll be pleased to learn that its spirits are free of calories and sugar.
How we'd drink it: We thoroughly enjoyed mixing the Garden 108 with lime juice, simple syrup, club soda, and mint leaves, to create our version of a mock mojito. Its unique flavor profile of rosemary, thyme, and peas was what kept us hooked, giving us a memorable woodsy drink. For a quicker concoction, measure out 50mL of Seedlip and stir into your favorite tonic.
Price: $31.99 USD/bottle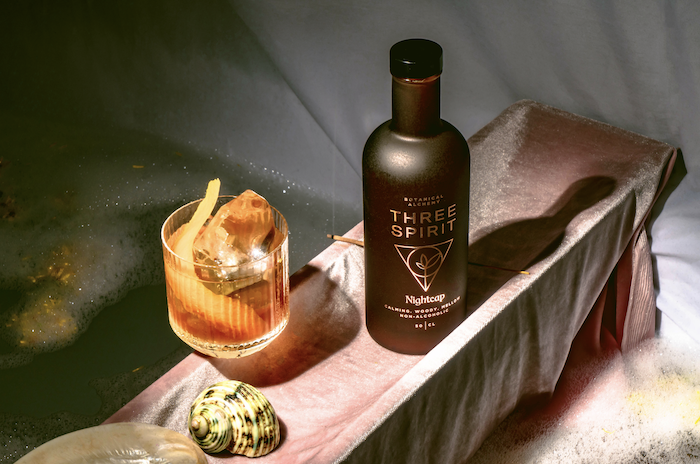 Three Spirits
While Three Spirits' plant-based alternatives are not directly reminiscent of your usual vodka or gin, they grip you with something much more. Their three blends are meant to induce distinctively contrasting feelings, from The Pick Me Up (livener) to The Mood Maker (social elixir) and The Dream Maker (nightcap). Flavors embody notes of ginger, spicy, and fruity all at once. What's better is that each elixir is made with active ingredients like cacao, yerba mate, and valerian root, all known to make you feel good with stress-reducing and mood-boosting properties. Drinks are crafted using environmentally friendly methods and are also ideal if you are vegan or gluten-free.
How we'd drink it: Our favorite is their Social Elixir. Aside from the intricate meld of dark apple and cacao, the hint of caffeine (equivalent to a cup of coffee they say!) gives you that promised fuzzy feeling and general lift to carry you through the night. Mix two parts of sparkling water or your favorite soda with one part of Three Spirits.
Price: $39/bottle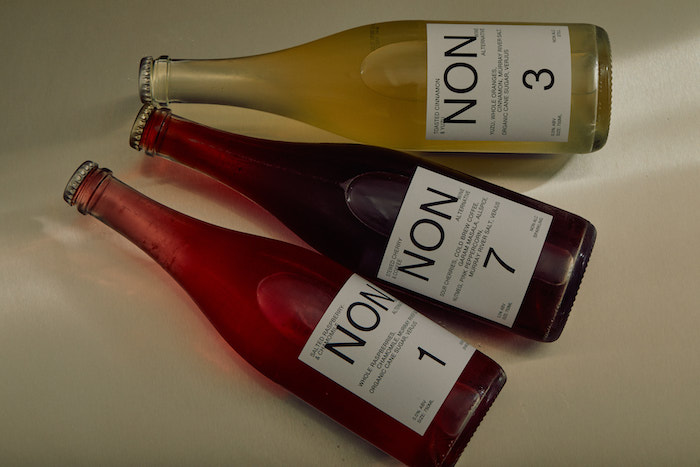 NON
NON takes a food angle as their remedy to empty wine glass syndrome. NON is a wine alternative finely crafted with real food and the finest ingredients. Made with love, each bottle of NON has a unique flavor composed of its own medley of dried fruits, herbs, and spices steeped in hot water and verjus. Seven options ranging from Salted Raspberry & Chamomile to Lemon Marmalade & Hibiscus line the shelves at NON. On top of being alcohol-free, all of their wines are also vegan and gluten-free.
How we'd drink it: With its proximity to a dry white wine, our favorite bottle is NON 3: Toasted Cinnamon & Yuzu. Hints of burnt floral, yuzu, cinnamon and oranges easily meld together to give you a yuzu-forward semi-salty, and tart sip. Chill the bottle and pour it into a wine glass.
Price: $25.27 USD/bottle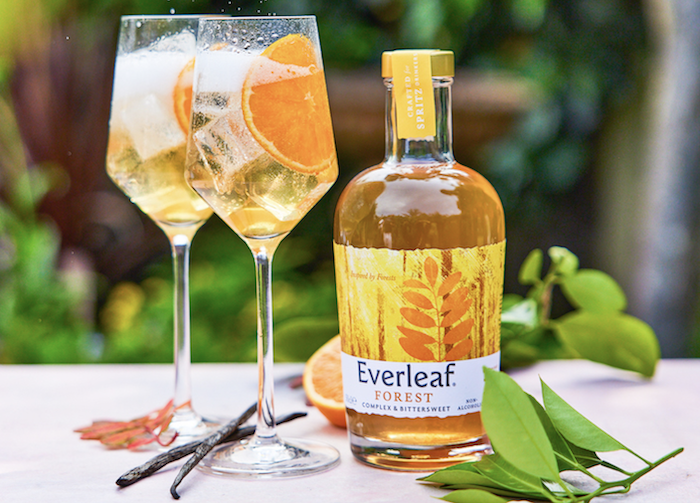 Everleaf
Everleaf creates non-alcoholic aperitifs that capture the essence of the great outdoors. Aptly named Forest, Mountain, and Marine, the three offerings have flavor profiles that range from floral notes to zesty bergamot. Don't be fooled by its alluring colors, these aperitifs are not sugary, and instead offer a light and refreshing sip. Outside its stylish aesthetic, the price point of this product is one worth noting. A bonus: they are currently carbon net neutral and have a goal of becoming carbon net zero by 2025.
How we'd drink it: We loved the versatility of Mountain. Reminiscent of a pink gin, this bottle uses notes of cherry blossoms, instead of your usual strawberry scents, to balance out the tart and savory elements. Mix one part Everleaf with three parts light tonic water, add ice, and a freshly sliced garnish of your choosing to create a delicious spritz.
Price: $32 USD/bottle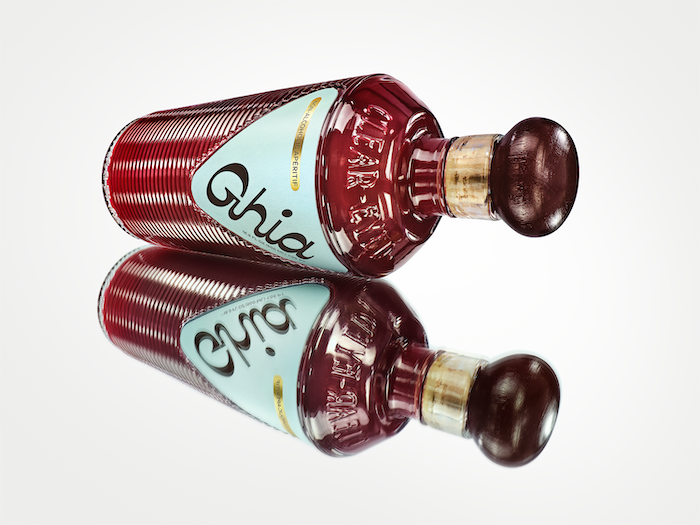 Ghia
Any good list knows to include Ghia, the brand that paved the cultural shift for non-alcoholic drinks everywhere. Accompanying their famous single-serve Le Spritz cans in three enticing flavors: Ginger, Lime and Salt, and Soda, Ghia's latest addition to the repertoire is a reformulation of their Aperitif. The concoction boasts citrus, florals, and health-forward ingredients like gentian root and elderflower. Hints of dates, plums, and rhubarb roots can be detected in each sip of the complex drink. The sultry bottle is designed to even hold court next to liqueurs on a bar cart.
How we'd drink it: Mix one part Ghia Aperitif and 3 parts sparkling water to create a rejuvenating summer spritz. We also appreciate a can of the Ghia Ginger, which embodies a striking and memorable sip.
Price: $38 USD/bottle